4 4 3 Beefalo:User Manual
Note

This User Manual is valid for SEP sesam versions Beefalo (4.4.3.70) to Jaglion (5.0.0.x).
It describes the user interface(s) (UI) of SEP sesam and provides guidance on how to use SEP sesam. Some of the UI features may be limited by the license agreement between SEP AG and the customer. In addition, some features may be limited by the backup strategy implemented at the customer's site. These limitations can be removed by purchasing additional licenses or by changing the actual backup architecture.
For more information, please contact your distributor or SEP AG at sales@sep.de.
Introduction
Welcome to SEP sesam
SEP sesam hybrid backup and disaster recovery solution is a high-performance solution for protecting data in hybrid environments – physical, virtual and cloud – of any size. Supporting the widest range of operating systems (Microsoft, VMware, SAP, etc.), databases and applications, SEP is the perfect solution for IT professionals managing data protection and business continuity.
A comprehensive portfolio of modules ensures uninterrupted data protection for a wide variety of applications and databases, including SAP HANA on Intel & IBM Power platforms, SAP NetWeaver & SAP ASE.
The SEP sesam multi-streaming technology enables extremely fast, simultaneous backups of an unlimited number of servers to different backup media such as disk, tape and cloud. After a disaster, SEP sesam Si3 replication technology offers a fast and located independent recovery of single files up to the complete system. In addition, companies with SEP sesam are hardware and software independent, which makes it possible to consolidate several backup systems into a centrally managed backup solution such as SEP sesam. This enables IT managers to flexibly adapt their infrastructure to the constantly growing requirements.
SEP sesam concepts and principles
Basic backup configuration
Make sure that the hardware and software requirements are met before configuring SEP sesam backup. For details, see SEP sesam Requirements.
Step 3: Storage Hardware - Drives and Loaders
Step 5: Tasks - Select what you want to back up
Directory structure of SEP sesam software
For details on SEP sesam directories, see Directory Layout.
SEP sesam user interfaces
SEP sesam offers three interfaces with which you can manage the system: Command line interface (CLI), Graphical User Interface (GUI) and Web UI.
While CLI and the GUI can be used to configure the SEP sesam environment, the Web UI allows you to securely monitor your environment from anywhere: You can use it to check the status of SEP sesam events, datastores, system logs, etc., as well as perform various operations such as starting or locking backups, restarting failed jobs, and starting online restores with the Restore Assistant.
The SEP sesam GUI consists of different areas, as described in SEP sesam Graphical User Interface (GUI). This manual describes the features and functions of the GUI. For details about Web UI and CLI, see SEP sesam Web UI and SEP sesam CLI.
Menu bar and Toolbar
In the menu bar, you can find the menus File, Activities, Configuration, Window and Help.
Components
Tasks
Under the Tasks menu, you can configure backup, restore, migration and Si3 replication tasks.
Scheduling
SEP sesam establishes schedules as a frame, to which you link different events, such as backup, migration, replication, etc. A schedule defines the recurrence of an event and may be executed in minutes, hours, days, months or years.
Job state
Under the Job State, you can check the status of all jobs (backups, restores, migrations, etc.).
Monitoring
Monitoring provides several features, including a dashboard (displays the state and other details of your backups and restores), last backup state (shows the last status of each configured backup job), shows all running processes/daemons, and the status of all used disk drives (information on queue).
Logging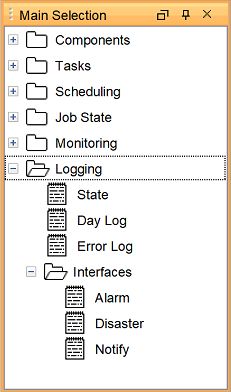 SEP sesam creates two protocols or log files for each backup day: the status file and the day log. These files are available in <SESAM ROOT>/var/prot. It is recommended to use the SEP sesam log files to detect operations that caused errors or malfunctions, for example, in case of a failed backup. For details, see Analyzing SEP sesam Log Files.
Appendix